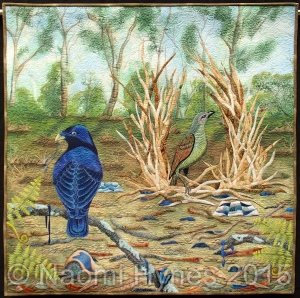 My journey into art quilting.
I made this quilt for the 2015 Australian Quilt Convention Challenge, "True Blue." This is really just the second art quilt I have ever made and I was very proud when it became a finalist and was accepted into the traveling suitcase.
I have turned to art quilting of late because of time constraints when it comes to producing my own work. Art quilts are generally smaller in size meaning that these quilts can be quicker to produce. Although on saying that there is probably as may man hours in this quilt as a king size custom quilt. So maybe I was just more determined to complete this piece.
The piece combines many techniques including, hand dying, fussy cut raw edge applique, fabric painting and Inktense pencil work and many hours of intense free motion quilting. All the raw edge applique work and quilting was done on my Gammill  longarm and the quilt did not see any domestic machine work until it was ready for binding.
The quilt depicts a Satin Bower bird who is courting his female with a collection of stolen fabrics and blocks from my stash.